PANIC AIRLINES EXPANDS!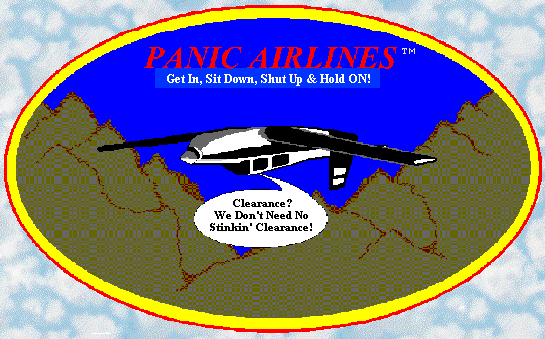 Panic Airlines, the leader in airborne excitement, is proud to announce that it has expanded its fleet to include an actual aircraft.
This new addition is a brand spanking used 1968 Piper PA28-180D "Cherokee" (tail number N9376J). It seats four adults in relative comfort (relative to, say a VW Bug) and cruises at 110 to 145 mph for up to 600 miles.
For a modest fee (passengers are requested to share in the variable costs of their flight -- approximately $35 per flight hour) you can experience the majesty and unpredictability of single-engine flight.
This addition to Panic Airlines' expansive and modern fleet will allow us to provide nearly 100% more flights throughout the southwest. Just pick a destination and Panic Airlines will attempt to get you there in one piece with a minimum of discomfort. You'll scream across the sky at an amazing 130 miles per hour and arrive with a story you'll be sharing with your grandchildren (and possibly an attorney) for years to come. Your capable pilot Captain Bob "anyone see a runway" Carroll will see to it that you're entirely ready to return to Mother Earth.
Here are just a few examples of trips that can be arranged for you and your friends:
| | | |
| --- | --- | --- |
| Camarillo | Casual Airport Cafe -- Quick Lunch | 0.5 |
| Catalina Island | Picnic atop the Island | 0.8 |
| Bakersfield | Absolutely None | 1.0 |
| San Luis Obispo | Spirit of San Luis Restaurant | 1.2 |
| Harris Ranch | Best Steak in California | 1.5 |
| Laughlin, Nevada | Casinos & Colorado River | 2.0 |
| Sedona, Arizona | Fantastic Views, Nice Resort | 3.5 |
Other destinations are available. Local scenic flights are also possible. Night flights are usually quite smooth and enjoyable.
All flights depart from Van Nuys airport via the luxurious Panic Airlines terminal located at 10525 Hart Street in beautiful downtown Van Nuys. Pickups at other airports may be arranged. Call for availability.
Federal Aviation Administration regulations require that all flights within the continental U.S. be designated non-smoking (engine/electrical fires excepted) and passengers are warned against tampering with the restroom smoke detectors. Fortunately, since aircraft in the Panic Airlines fleet have no restrooms, there are no smoke detectors available for tampering. This does, however, prompt us to ask passengers to take care of all bodily functions prior to boarding. Disposable containers are available in case of unexpected bladder attacks, but be advised that privacy is nonexistent.
Regardless of how much we jest, all flights are conducted with the utmost safety. Remember, your pilot wants to live too (now that he's been discharged after years of psychiatric care).
So, go ahead. Take the plunge! Call Panic Airlines at (###) ###-#### and arrange the flight of your dreams (or nightmares) today!
* Panic Airlines is an unregistered trade mark of absolutely no value (but don't steal it anyway). Panic Airlines is not a legitimate business, nor is "Captain" Bob Carroll rated to operate as a commercial pilot. The sole intent of this notice is to inform his not-yet-flying friends and acquaintences of his recent acquisition and to solicit assistance in supporting his flying habit (his family is desperately trying to get him into Always Airborne Anonymous). We reserve the right to refuse service (midflight if necessary) to the sickeningly squeamish and overly obnoxious. Certain restrictions (such as total passenger weight) may apply. Offer void in certain states of mind.
---

Potential Victims/Passengers Since 11/5/2003: